Los Angeles , Province VIII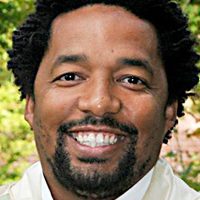 The Rev. Lester V. Mackenzie is currently the rector of the Episcopal Church of St. Mary in Laguna Beach (Diocese of Los Angeles). Lester has served as deputy to General Convention three times (2012, 2015, 2018), and as chaplain to the General Convention House of Deputies in 2015 and 2018. In the Diocese of Los Angeles, he has served as a member on the Commission of Ministry, a director on the Corporation of the LA Diocese, part of the Diocesan Examining Chaplains and a volunteer chaplain with PRISM at the LA County Jail.
Lester, a native of South Africa and 3rd generation priest, was nurtured in the womb of freedom, the South African Anglican Church during Apartheid in Johannesburg and Cape Town. He matriculated at Diocesan College (Bishops) and attended the University of Cape Town. As a singer and percussionist Lester uses his South African story and African musical influences to encourage self expression and reconciliation. He enjoys the cool shores of the Pacific Ocean with his wife Angela Mackenzie, a 4th generation native Southern California girl Tech Educator, and their three kids Jonah, Oliver and Cora.