Northwest Pennsylvania, Province III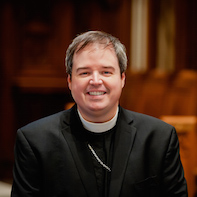 The Rt. Rev. Sean Rowe was ordained and consecrated as the eighth bishop of the Episcopal Diocese of Northwestern Pennsylvania in September of 2007. He also serves in the Diocese of Bethlehem, where he was elected the Bishop Provisional in 2014.
At the church-wide level, Bishop Sean currently serves as the parliamentarian for the House of Bishops, a member of the President of the House of Deputies' Council of Advice, and a member of the General Board of Examining Chaplains.
Born in Sharon, Pennsylvania, Bishop Sean graduated from Grove City College in 1997 with a Bachelor of Arts Degree in History. He immediately entered the Virginia Theological Seminary and graduated in 2000 with a Master in Divinity degree. Bishop Sean recently completed work on his Ph.D. in Organizational Learning and Leadership at Gannon University.
Bishop Sean resides in both Fairview and Bethlehem, Pennsylvania, with his wife, Carly, and their daughter, Lauren.