Good morning. My name is Gay Clark Jennings, and I am the president of the House of Deputies of The Episcopal Church. Along with the Rev. Will Mebane, Bishop Bowman and Bishop Persell, I am very glad to welcome you to our cathedral.
When my friend and colleague Will asked me to speak to you today, I was very glad for the chance to tell you about the Episcopal Church's long resistance to capital punishment. That resistance has its origins in The General Convention of the Episcopal Church—the bicameral legislative body made up of the House of Deputies and the House of Bishops that is the supreme legislative authority in our church. Laypeople, clergy and bishops all have a vote. And for the past half-century, we have consistently voted to oppose capital punishment and work for its elimination.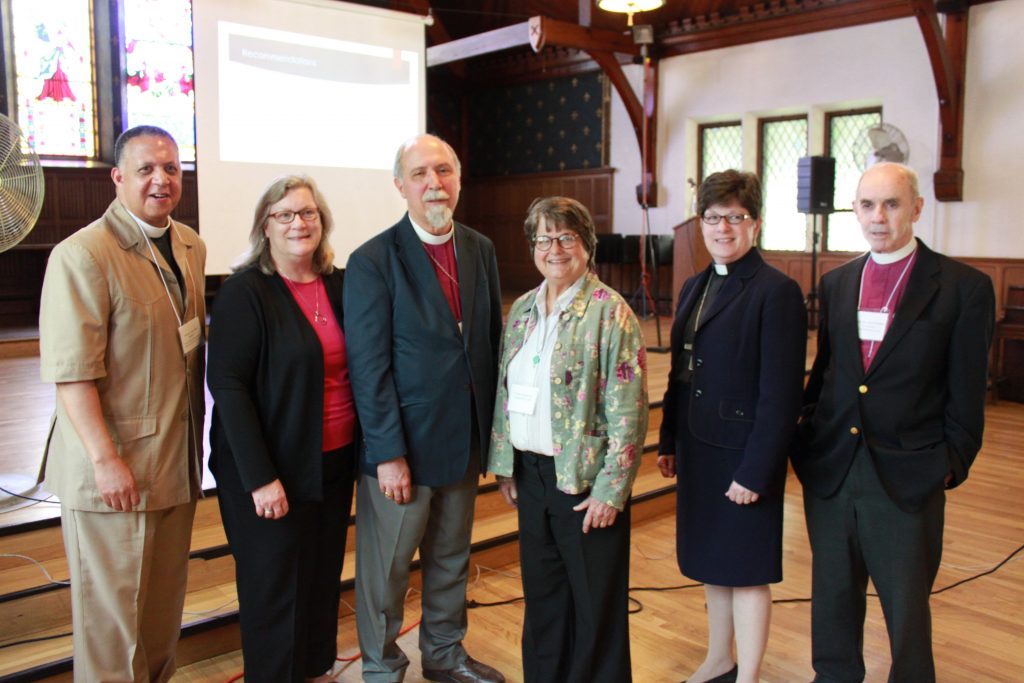 General Convention first went on record in opposition to the death penalty in 1958 and reiterated that opposition in 1969, in 1979—the year that I was ordained as a priest—and in 1991. In 1990, Presiding Bishop Edmond Browning issued an "Open Statement on Capital Punishment" in which he wrote words that, sadly, apply to us in Ohio as much today as they did then:
"In these times when violence is so often used as a solution to violence itself, I wish to align myself with those who are today opposing the use of capital punishment. I commend them for their efforts to light a torch of conscience in our nation. I hope our legislators will want to revisit the death penalty issue and question the increasing use of this sad practice."
During these decades of resistance to state-sponsored execution, Episcopalians have been doing more than passing resolutions. In Connecticut, Episcopalians organized wrote letters, lobbied and testified to help pass the bill that, in April of last year, abolished the state's death penalty. In Maryland, bishops and other Episcopal leaders worked for years with a broad coalition of faith-based partners before finally succeeding in abolishing the death penalty in that state just a couple of weeks ago. In Montana, Episcopalians are involved in the Montana Abolition Coalition. In California, Episcopalians continue to oppose the death penalty in the wake of Proposition 34. And here in Ohio, we are proud to have a committed, passionate Episcopal leader as chair of the board of directors of Ohioans to Stop Executions.
In the debate in Maryland, Bishop Eugene Sutton reminded us of the core of Christian resistance to the death penalty. "If (civil rights leaders) have taught us anything," he said, "it's that a nonviolent response is still the most powerful weapon we have to deter the evil of violence. More powerful than the electric chair. More powerful than a lethal injection."
Today in the Episcopal Church we celebrate the life of Justice Thurgood Marshall, the first African American justice of the Supreme Court and a deputy to the 61st General Convention in 1964. At the time of his death in 1993, the New York Times noted that "Justice Marshall believed that the death penalty was unconstitutional under all circumstances. He dissented from all decisions in which the Supreme Court upheld application of the death penalty, and he wrote more than 150 dissenting opinions in cases in which the Court had refused to hear death penalty appeals."
As we Ohioans redouble our advocacy against capital punishment and seek to find a new way and speak in a common voice, I pray that we can draw upon the example of Thurgood Marshall and oppose the death penalty and call upon the power of nonviolence. We have a great deal of work to do to end this scourge—a scourge that is disproportionately and unjustly directed toward poor people and people of color and one that diminishes every one of us. As we people of faith go forward in Ohio, let us be united in our belief that nonviolence is more powerful than any of the forces of fear and hatred that we must stand against and overcome. I am honored to be working with all of you in this mission.
Thank you.