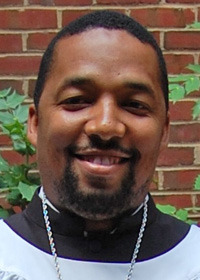 Born in Johannesburg and raised by his grandparents in Cape Town during apartheid, Deputy Lester V. Mackenzie is fluent in Xhosa, Afrikaans, English, Dutch, Portuguese, and he's getting the hang of Spanish.
But the primary language he lives, preaches, speaks and sings, is that of reconciliation and freedom. That's the language he'll use as chaplain to the House of Deputies at the 2015 General Convention.
"I'm excited that we have an opportunity to come together again at General Convention and reexamine what God is calling us to do," Mackenzie said. "I'm seeing too many people in survival mode. How am I going to survive this? How am I going to make it?
"I want to help re-energize people. My ministry and my passion is holy joy and what it truly means to be free."
Mackenzie, who describes himself as 'the praying, dancing, teaching, preaching, surfing, web developer priest,' serves as associate for emerging ministries at the Parish of Saint Matthew, Pacific Palisades, in the Diocese of Los Angeles. A third-generation priest, he lives with his wife, Angela—a tech educator whom, he points out, is a fourth-generation native Southern California girl—and his three young children, Jonah, Oliver and Cora. Lulu, a goldendoodle, completes the family.
Mackenzie came to California in 2000 after his aunt, the Rev. Vanessa Mackenzie, was called to be rector of Church of the Advent in Los Angeles. He participated in the pilot of Hands In Healing, a peace and reconciliation initiative started by the Rt. Rev. Jon Bruno, bishop of the Diocese of Los Angeles, and then went to Virginia Theological Seminary to complete his graduate studies in divinity. Lester is a deputy to the Episcopal General Convention (2012 & 2015), a member of the diocese's Commission of Ministry, director on the Corporation of the Diocese, part of the Diocesan Examining Chaplains, member of the search committee for the 7th Bishop of Los Angeles, and an associate of the Order of the Holy Cross. He is also an Apple developer and designed an iPhone/iPad App for St. Matthew's Parish.
So in addition to being multi-lingual, he speaks computer code, too!
Mackenzie, who wrote a remembrance of Nelson Mandela for the House of Deputies last year, grew up in the heart of the South African Anglican Church during Apartheid in Cape Town. His grandfather, with whom he lived, is the Rt. Rev. Edward Mackenzie, a retired bishop suffragan of Cape Town who served in ministry with Archbishop Desmond Tutu. In 1994, at the end of apartheid in South Africa, Mackenzie worked to heal the racial divide in that country. He later became a bishop in residence in the Diocese of Los Angeles, where he still serves when needed.
Lester was six months old when he moved from Johannesburg to Cape Town with his grandfather, who, with his wife, Sylvia-Rose Mackenzie, taught him the ways of the church, a love of music and the importance of bridge-building.
"They had eight children—four girls and four boys—and also me and a cousin, so there were 10 children," Mackenzie said. "What  I remember the most, the most vivid times of apartheid, is being at St. John's Church on Belgravia Road  in Cape Town. St. John's became the fount of the movement. My uncles were in high school and were very involved, and I was in grade school. I remember special security officers watching the church.
"The church I saw changed my world view," he said. "How I learned to drive a vehicle was driving with my grandfather through his province—from little fishing towns along the Atlantic to suburban and inner city churches—seeing this bishop bring words of hope, of tenderness, to people seeking to find meaning in a world that tells them you are ugly, you are meaningless. It changed my life forever.
"One thing that apartheid did well was to chip away at what we understand to be self-worth. And the gift of the church was that you could be who you are at church, you could be free to be who and what you are."
Among his many memories of the end of apartheid is of standing in line with his grandfather—"What a glorious day!"—to vote in Bishopscourt, an all-white, wealthy suburb of Cape Town, and of watching the events unfold on television.
"During that time we were glued to our TVs, and there was just utter joy," Mackenzie recalls. "Why I know we're capable of doing this as human beings is that I witnessed it, I tasted it. There was truth telling, there was humanity embracing each other. There was reconciliation. That is transcendent."
It is that kind of joy and transcendence that Mackenzie said he also experienced that kind of joy and transcendence at the Lambeth Conference in 1998.
"I interacted with so many people from around our communion," he said. "To feel part of our large family was affirming. How do we invite all who are searching to know that a community exists that is welcoming?
"I believe the church can teach people what it truly means to love each other," he continued. "We have an opportunity to show people that they, that we, really are valuable. A lot of that I do through song. Music invites us in as family, as humanity. We need that even more so at a time when we can be so harsh with each other. In LA, the first thing people ask is 'What do you do?' You have to be who you are called to be, to be yourself. That is what God calls you to be."
So there is yet another language, the language of music, that MacKenzie uses to build bridges and spread hope.  As a singer and percussionist, he uses his South African story and African musical influences to encourage self-expression and reconciliation. He attributes his love of music to his grandmother, who, as a trained pianist and singer, instilled the love of music in all of her family.
Looking forward to General Convention, Mackenzie reflected on the writings of Anglican theologian Austin Farrer, who said that a priest is called, in part, to be a "walking sacrament." If true, then it is important to pay attention to what you feed yourself and what you are feeding others.
"I imagine Farrer saying to me, 'Lester, you better watch your diet, because you don't want to give your congregation food poisoning.' I hope and I'm excited that at General Convention, that time when the family reflects together, we will examine our diets. Are we on the path to health? We all need to feed on hope, love, compassion, reconciliation, justice, forgiveness."
And as is always the case, we all need to see one another as God sees us, as a unit of God's grace.
"In song, in prayer, in community, I am very passionate about seeing each other," said Mackenzie,
So if you see Mackenzie at General Convention, or at any other time, feel free to address him with the Zulu greeting, "Sawubona (I see you)!"
Surely he will reply, "Yebo, sawubona (Yes, I see you)!