Episcopal Café founder, long-time editor honored for service to church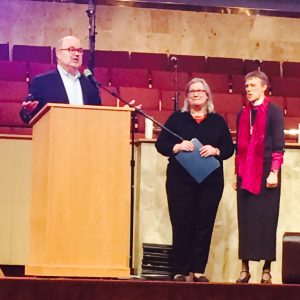 On January 31, House of Deputies President Gay Clark Jennings awarded the House of Deputies medal to Jim Naughton, founder and long-time editor of Episcopal Café, a blog of news, meditations, commentary and art. Jennings made the presentation at the Diocese of Washington's annual convention in Glenn Dale, Maryland.
Naughton, who founded Episcopal Café in 2007, retired as its editor in November 2014. During his tenure, the site was visited nearly 6.9 million times by almost 374,000 users, while 13,400 people followed it on Facebook and 11,350 on Twitter. Initially sponsored by the Episcopal Diocese of Washington, where Naughton was canon for communications until 2009, the Café in later years became an independent initiative staffed entirely by volunteers.
"Over the years, one of the things that I and a lot of other faithful Episcopalians learned from Jim and Episcopal Café is that the Episcopal Church needs an independent news source," Jennings told the convention. "Our denominational news service and other publications sponsored by various dioceses, foundations and other entities are important to our common life, but we also need a news source that isn't beholden to the official structures of the church. Elected and appointed leaders, like me, shouldn't be able to control the news and opinions about our beloved church that Episcopalians read and hear, and deputies, bishops and faithful Episcopalians of all callings should have a forum to debate, ask questions, and to hold our leaders and each other accountable. Independent news makes all of our leaders, all of our governing structures, and all of our ministries stronger, more accountable, and more faithful."
In accepting the award, Naughton thanked Jennings, whom he said had asked him to come to Washington's convention without telling him why. He thanked the Café's staff, and praised the Rt. Rev. John Bryson Chane, former bishop of Washington and Paul Cooney, the diocese's canon to the ordinary. "John and Paul understood that if you want a free flow of information and an open discussion of the issues facing the church, you had to grant the people providing that information both editorial freedom and job security," he said. "I am not sure that all of the leaders in our church understand that."
Naughton is now a partner in Canticle Communications, an independent firm that is contracted by Jennings to assist with House of Deputies communications. In retiring from the Café, Naughton cited his desire to pursue a new writing project. He chose the Rev. Jon White, rector of St. Stephen's Episcopal Church in Beckley, West Virginia to assume leadership of the blog.