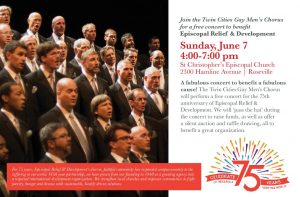 When Gay Jennings speaks, Minnesota deputies listen!
In January President Jennings challenged all deputies to raise $75,000 for Episcopal Relief & Development's 75th anniversary, and the Minnesota deputies accepted the challenge and ran with it.
On Sunday, June 7, the deputies will host the Twin Cities Gay Men's Chorus at St Christopher's Episcopal Church in Roseville for a concert to benefit Episcopal Relief & Development. There are no reservations, charges at the door, or tickets required. Everyone is invited to simply show up, enjoy some of the Twin Cities' premier entertainers, bid on silent auction items, and enjoy appetizers and beverages. The hat will be passed during the concert as a free will offering.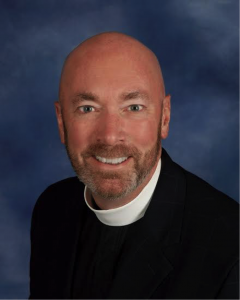 The Rev. John Dwyer, clergy deputy and rector of St. Christopher's, created the event. Dwyer, who also serves on the Chorus Board, says, "EpiscopalRelief & Development's stated mission of 'healing a hurting world' parallels one of the primary missions of the Twin Cities Gay Men's Chorus: reaching out to those hurt by intolerance and prejudice and assisting in bringing about change by building community through music. As part of its outreach mission, the Chorus has performed many concerts to assist organizations like Episcopal Relief & Development."
"The Chorus has also traveled to places where GLBT individuals are very often not treated well, bravely bringing their message of equality and the need for social change to areas that desperately need to hear these voices."
"I know a number of members of the Chorus who have been hurt by the religious intolerance of their childhood and youth," says Dwyer. "To have these individuals be welcomed into a religious setting, and at the same time help an international relief organization like Episcopal Relief & Development, is healing centered in the mission of Jesus and an act I find truly inspiring."
The deputation is optimistic that the event will reap huge rewards for the campaign, which culminates at General Convention this summer. To support the campaign, donate online.
The Minnesota deputation is: (Clergy) Devon Anderson, LeeAnne Watkins, Doug Sparks, John Dwyer, and Janet McNally (first alternate); (Laity) Jim Huber, Sally Johnson, Amanda Ziebell-Finley, Gail Sheddy, and Sue Trienbach (first alternate).
Devon Anderson is the rector of Trinity Church in Excelsior, Minnesota and is the co-chair of Minnesota's deputation to General Convention.