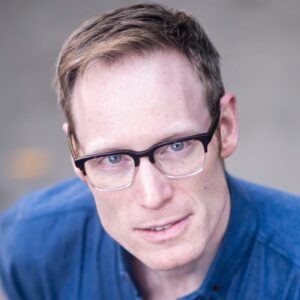 President Gay Clark Jennings is pleased to announce the appointment of Dr. Scott MacDougall, associate professor of theology at Church Divinity School of the Pacific, as theologian of the House of Deputies.
In his new role MacDougall will reflect with deputies on the theological nature of governance, participate in training House of Deputies legislative committee leaders, and provide theological consultation to President Jennings and deputy legislative committees during the 80th General Convention. He will begin his work on November 12 when he hosts a webinar exploring how the work of deputies is itself theological work. Deputies and alternate deputies can register online to attend.
"Ever since I had the opportunity to spend time in his classroom last year, I have been captivated by Scott's lively and compelling understanding of how our church structures and governance reflect our understanding of God's mission," President Jennings said. "I am delighted that he has agreed to share his wisdom with deputies to the 80th General Convention."
MacDougall, who was raised in Central New York holds a B.A. from Hofstra University, an M.A. in theology from the General Theological Seminary of the Episcopal Church and a Ph.D. in systematic theology from Fordham University. His research centers on ecclesiology and eschatology, specifically on the difference a robust theological imagination of the future makes in how Christian community is lived out, both in the church itself and in the wider world. His first book, "More Than Communion: Imagining an Eschatological Ecclesiology," was published in 2015 and he is currently at work on a short introduction to the Anglican theological tradition for Brill's Research Perspectives in Theological Traditions series. MacDougall is also on the Core Doctoral Faculty of the Graduate Theological Union and serves as co-editor in chief of the Anglican Theological Review. Learn more about Dr. MacDougall on the Church Divinity School of the Pacific website.
"I am deeply grateful to President Jennings for appointing me to this new role," MacDougall said. "I am looking forward to working with the deputies with tremendous excitement. It is a real honor to have the chance to both learn from the wisdom and deep experience of the deputies and to contribute to the work the House does to build up our church."