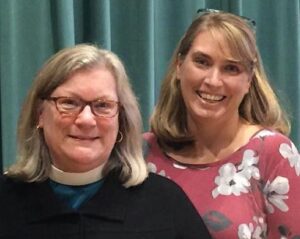 Dear Deputies and Alternate Deputies:
I am writing with a mixture of sadness and pride to tell you that Elizabeth C. Bell, more commonly known as Betsey, will soon leave her position as manager of operations and administration for the office of the president of the House of Deputies to become the executive assistant to the Rev. Canon Michael Barlowe, executive officer of the General Convention. She begins her new job on January 19.
Betsey's contributions to our church are numerous, and they date back almost 20 years. In 2004, she became assistant to the rector at St. Paul's Church in Cleveland Heights, Ohio, after years of volunteering in a variety of parish ministries. I was associate director of the CREDO Institute at the time, and I hired her that same year for recurring work as a conference administrator, at which she excelled.
When I was elected to lead the House of Deputies in 2012, I knew I wanted to hire her for the only full-time position on my staff, and I was delighted when she accepted my invitation to work alongside me. Betsey's twin gifts of intentional hospitality and organization have been evident to hundreds of deputies, alternates, staff, and volunteers. In the eight years we have worked together, Betsey has been a diligent manager, a cheerful and trusted colleague, and a goodwill ambassador for my office and me within the various networks and bureaucracies of our beloved church. It lessens my sense of loss to realize that I will still encounter her frequently in her new position, and that she will continue to lend her talents to the service of our church after my tenure as president ends in July 2022.
Shortly after the first of the new year, I will let you know about the arrangements I am in the process of making for administrative and support services. In the meantime, please join me in thanking Betsey for her dedicated service and contributions to our common life. She is truly one in a million.
Faithfully,

The Rev. Gay Clark Jennings
President, House of Deputies