Vice President Rachel Taber-Hamilton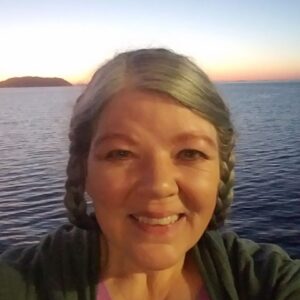 The Rev. Rachel Taber-Hamilton was elected vice-president of the House of Deputies at the 80th General Convention of the Episcopal Church in 2022.
She is an Indigenous ordained priest in the Episcopal Church. As a Shackan First Nation person, she represents the Episcopal Church on the board of the Anglican Indigenous Network. She served on the Episcopal Church delegation to the United Nations Permanent Forum on Indigenous Issues and also served on the Presiding Bishop's delegation to United Nations Climate Change Conference (COP26). She has 30 years of experience in cross-cultural communication, specialized ministry, social justice advocacy, and environmental advocacy. She is the founder of Circles of Color, a grassroots community of Episcopalians of color and authentic allies in the Episcopal Church of Western Washington and serves on the board of Paths to Understanding, an organization of interfaith leaders committed to mutual support on issues of social justice.
She is a Board Certified Healthcare Chaplain, endorsed through the Office of the Bishop Suffragan for the Armed Forces and Federal Ministries. With an academic background in cultural anthropology and cross-cultural communication, she specializes in assessment and care plan development for recovery processes related to incidents of community and organizational trauma. As a writer, her work has appeared in the Anglican Theological Review, God Space, Church Foundation Vital Practices, the Living Church, and more. She maintains a reflective commentary blogsite called Greening Spirit (www.greeningspirit.com). She is currently the Rector of Trinity Episcopal Church in Everett, WA.