2006-2012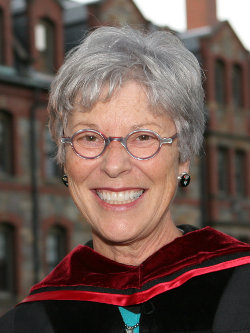 Bonnie Anderson served as president of the House of Deputies from 2006-2012.
Anderson is known in the Episcopal Church as a champion for the ministry of the laity, an advocate for marginalized people, a preacher who speaks to the people in the pew, and a skilled community organizer. She presided over the 800+ members of the House of Deputies as a fair-minded, skilled parliamentarian, grounded in love for Christ Jesus.
Her advocacy for the environment and the people most directly affected by environmental degradation earned her a gubernatorial appointment in her home state to the Michigan Environmental Review Board. To improve the quality of a badly polluted river, she mobilized 400 volunteers from more than 40 counties for a yearly clean up and continued water quality monitoring.
Prior to her election, Anderson served as vice president of the HOD; chair of the Joint Standing Committee on Program, Budget and Finance; an Executive Council member; and an Executive Council elected representative to The Episcopal Church Investment Committee. In her home Diocese of Michigan, she has held many positions including Canon to the Ordinary, President of the Standing Committee, and Chair of Constitution and Canons.
Anderson is an author of articles, writer and preacher of sermons and homilies and an adjunct lecturer at the University of Michigan. She has been awarded honorary Doctor of Divinity degrees from the Episcopal Divinity School and the University of the South, Sewanee, and honorary Doctor of Canon Law degrees from Seabury-Western Theological Seminary and General Theological Seminary.