2000-2006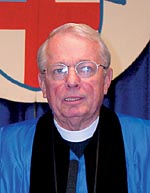 The Very Rev. George L. W. Werner served for six years as the 31st president of the House of Deputies. He was elected at General Convention in 2000 in Denver and re-elected in 2003 in Minneapolis. From 1994 to 2000, he served as vice-president under President Dr. Pamela Chinnis. He served eight terms as a deputy and as deputation chair from the Diocese of Pittsburgh.
According to a 2006 story by Episcopal News Service, Werner "was especially proud of bringing more young people into the workings of General Convention."
"I was anxious to appoint youth to positions at the table," he said. "We had talked about that ever since I have been in the church."
From 1979 to 2000, Werner was dean of Trinity Cathedral in Pittsburgh. He had previously served congregations in Connecticut and New Hampshire. He holds a master of divinity degree from Berkeley Divinity School, now known as Berkeley Divinity School at Yale. A native of New York City, Werner now lives in suburban Pittsburgh and serves as a trustee of the Church Pension Fund.