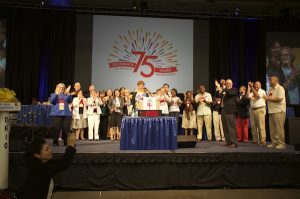 On July 16, Episcopal Relief & Development informed House of Deputies President Gay Clark Jennings that the Deputies Helping to Heal a Hurting World campaign had raised $128,226–171% of the $75,000 goal. The campaign in honor of the organization's 75th anniversary began on Epiphany and concluded at General Convention.
Highlights of the campaign included the Episcopal Church in Minnesota's benefit concert by the Twin Cities Gay Men's Chorus that raised more than $16,000; a 12-member team called the Steeple Chasers that ran the 200-mile Ragnar Wasach Back and raised more than $28,000; and a raffle sponsored by the deputies of the Diocese of Arkansas at their convention that raised more than $3800. The people of the Cathedral of St. Philip in Atlanta generously issued a challenge grant of $25,000 in matching funds for donations received before the campaign's end on June 30.
The campaign was co-chaired by Deputies Devon Anderson of Minnesota and Jack Tull of the Diocese of Florida and led by a committee of deputies from across the church.
Writing for Deputy News on June 30, Tull said, "Today at General Convention as we officially present the gift of this money to Episcopal Relief & Development, let us all remember the good work the Episcopal Church does to bring Christ into the lives of our brothers and sisters throughout the world, and let us be thankful."