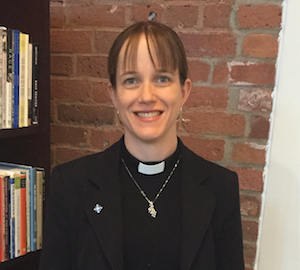 I have two hopes: they are 47" and 36" tall, respectively, weighing in at 47 and 31 pounds. Of course I'm speaking about my children, Katherine and Halsted. As I watch them grow and develop into remarkable and amazing people, I am filled with hope for the future. As they share their imaginative ideas for their own future professions, gender is absent. No one has told them yet that there is something they cannot do because of who they are.
The movement to ensure gender was not a barrier to ordination in the Episcopal Church was part of a much larger effort to bring about gender equality in all aspects of society. It is a testament to how many successes there have been — in the truest sense of feminism that desires the flourishing of all people — that our children believe that the world will allow them to live into the fullness of who God is calling them to be.
The movement for equality, like our children, is still growing, still striving for the fullness God desires. Gender equality has not been fully achieved in our beloved church. There is a wage gap and many senior leadership positions have yet to be filled by women. And there is hope. Our male colleagues and those in positions of power and privilege are increasingly listening to our painful stories and seeking to be a part of the solution.
If we continue to nurture the equality movement it has the possibility to grow to its full stature. If we become complacent, then we risk losing ground. Together, we are responsible for both the future and for each other's children. We all have a collective responsibility to fully realize the hope that was enacted 40 years ago.
Molly James is dean of formation in the Episcopal Church in Connecticut.