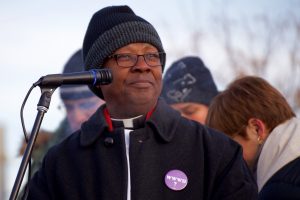 Three deputies in the Episcopal Church of Minnesota are at the center of a campaign offering the federal government a choice: either evict the Immigration and Customs Enforcement (ICE) and its immigration courts from the Bishop Henry Whipple Federal Building in Fort Snelling, or remove the bishop's name from the building.
Clergy deputies Devon Anderson, James Wilson and Rena Turnham are leaders in the What Would Whipple Do? campaign, which has the backing of the Episcopal Church in Minnesota, the Minnesota Council of Churches and the Interfaith Coalition on Immigration. They want the bishop's name disassociated from what campaign organizers refer to as "a regional deportation machine."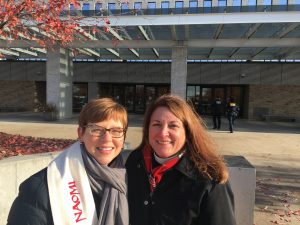 "What is happening to immigrants in the Bishop Henry Whipple Federal Building is in direct opposition to the values, theology and policy of the Episcopal Church," Anderson said at a press conference outside the building on October 29. "To us, it is an intolerable irony to have the name of the first Episcopal bishop of Minnesota, an icon of human rights and compassion, on the front of this building in which so much injustice and cruelty occurs on a daily basis."
Whipple, who died in 1901, was an advocate for Native Americans in the middle and late 19th centuries, when they had few white allies. In the wake of the U. S.-Dakota War of 1862, he met with President Abraham Lincoln to seek clemency for 303 Dakota men sentenced to hang by a military tribunal. Lincoln commuted the sentences of 265 of the men, while approving the killing of 38.
Before the media conference, some 300 demonstrators participated in a prayer vigil and celebration of Communion in a parking lot outside the building. Wilson, a Liberian immigrant who is rector of Holy Trinity Church in St. Paul, preached at the Eucharist and Turnham helped to administer Communion. A vocational deacon at St. Mark's Cathedral in Minneapolis, Turnham is a member of the campaign planning team.
The organizations are also seeking to limit Minnesota's cooperation with federal immigration enforcement authorities, making it the 10th so-called "sanctuary state."
photos courtesy of Deputy Devon Anderson